This is a place for all my photos, frippery and thoughts that have anything to do with the 18th century, mainly my sewing projects.
I am about to embark on more than one journey when it comes to the creation of a few Georgian era garments, including one or two (perhaps more) for a man. I don't normally delve into the world of men's tailoring but I aim to give it a shot, and my fiance has been begging me to make him a few wardrobes worth of historical wear.
I have experience in sewing eighteenth century garments, including millinery. However, I have very little photograpic material of my work, and what I do have left in my own collection had dwindled down to one gown. The rest were either sold or used for fabric in other projects.
So right now, Victorian dresses rule my closet. While I love the bustle era, I miss the age of enlightenment.
I should also consider myself lucky to have a loving fiance who expresses genuine interest in historical fashion and the wearing of such things, even expressing similar reactions of glee when flipping through one of my costume books. Most heterosexual males these days won't even go near a waist coat or a cravat for fear of any threat to their modern 'sports ball' masculinity, let alone wear such fine threads.
The Victorian menswear he wanted I had to pass on, for now. The one pattern he has consists of so many pieces that it makes even my experienced eyes cross.
From all my research of 18th century clothing, one of the most deceivingly simple garments was the 1700s frock coat. All or most of the detail was in the trimmings, pocket flaps, cuffs, etc.
They are by no means a super easy garment, but they took less than the million pattern pieces their future Victorian counterparts would.
So, while this blog will mostly focus on the fashions of the 18th century woman, it will most likely start off with a frock coat project for a handsome, 6' 7" Swede named Anders ;-)
As for my own gown, below is a fabric swatch of the striped silk damask I found over a year ago on Ebay. I plan on creating something similar to the gown in this painting: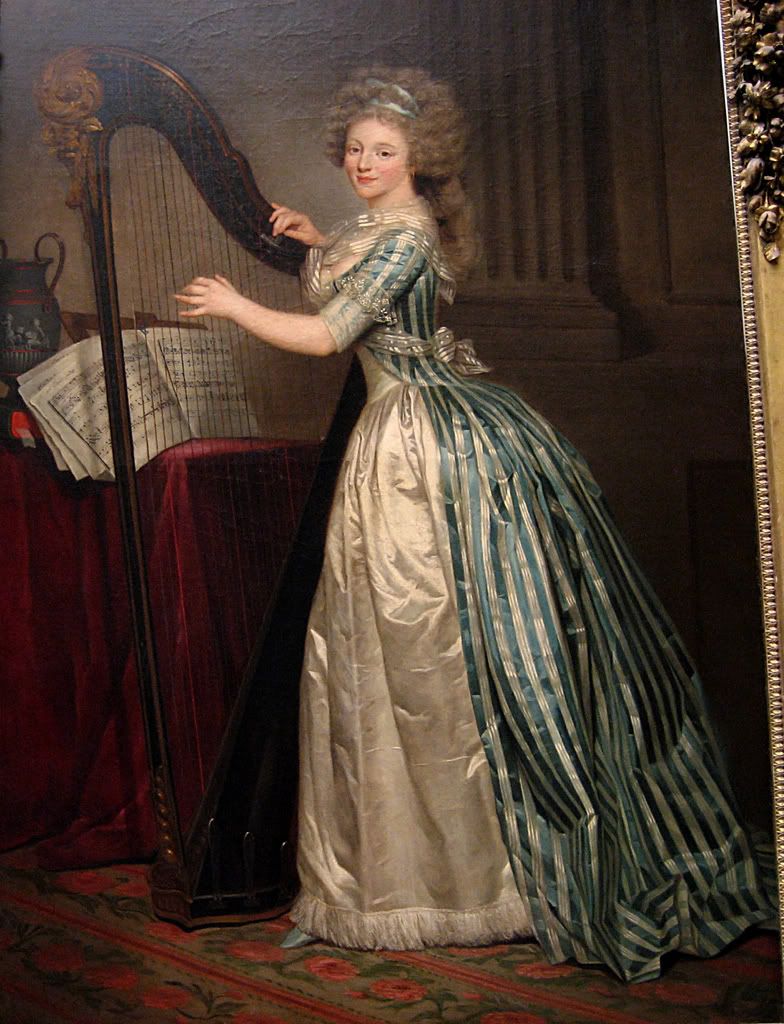 As for Anders' frock Coat fabric, I found a wonderful berry-colored silk taffeta.
Here is my crappy cell phone photo, and a photo of an original coat from my hoard of fashion books. I'd like to do something like this, perhaps finding a fine metallic lace to applique on the coat front, instead of embroidery. I haven't learned how to do that detailed style of embroidery...yet:
I think we'll make a nice pair in these ensembles once everything is put together ;-)